Your parasail adventure begins with an operator strapping you into a harness and launching you from a boat. After you sail over the ocean, the operator winches you back onto the boat at the end of your ride. Your clothing needs to handle wind and water and not be so loose-fitting that it could get caught in the harness or tow rope.
Warm-Weather Outfits
Operators recommend a bathing suit for warm days. As you may be exposed to wind and ocean spray, choose a suit that fits closely and won't fall off or get caught in your harness. Women should opt for a sleek, close-fitting single-piece suit. Men should wear close-fitting trunks rather than baggy beach shorts. Even if the boat operator doesn't plan to dunk you, you may get splashed accidentally, so avoid fabrics that can't handle water.
You Can Still Parasail in Cold Weather
Parasailing isn't restricted to warm weather days. To enjoy soaring behind a boat in cooler weather or regions with cold water, add layers that stay warm while wet to prevent hypothermia. For temperatures greater than 50 degrees Fahrenheit, a fleece jacket and lycra or fleece bottoms keep you toasty both in the air and on the boat. For colder temperatures, wear a wet suit or other cold weather boating gear.
Clothes for the Boat
As you won't be allowed to wear shoes on most boats, choose easily removable sandals or flip flops for the walk to your boat. Add a hat and light jacket or sun-proof cover up for the boat ride. Bring a towel for drying off after you land back on the boat. Pack your cell phone, wallet, keys, sunblock and other essentials in a waterproof bag inside a tote or backpack that can be stowed easily on the boat while you ride your parasail.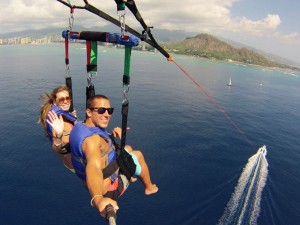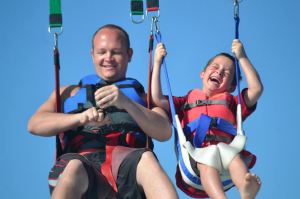 *The main source eHow